I finally have a flat in London! My moving date is the 27th of June and that will be the day I have been waiting for - every single decision I've made in the last 4 years has been building up to this and now I'm 20 days away from having everything I've ever wanted, and this flat really is the icing on the cake. Don't get me wrong, it's not massive, but the kitchen is lovely, the bathroom is nice, the bedroom is spacious and the living space is nice if not slightly compact. I couldn't take any photos of the inside because the current tenant had boxes packed up to the ceiling, but, check out the view: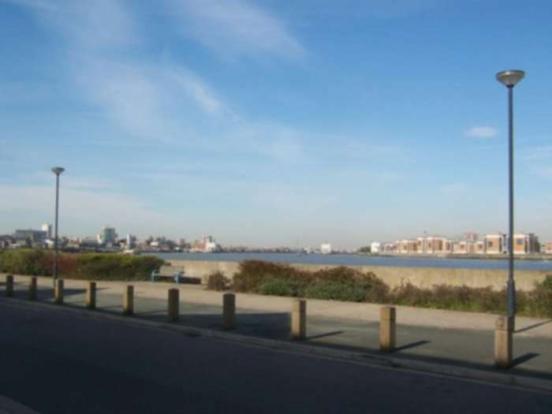 Plus, being right on the river bank, it is so quiet you wouldn't know you were only 20 minutes from central London... other than being under the flightpath for London City Airport, but everywhere in the area is (obviously) so I can't hold that against it. And anyway, even when I sat and ate my lunch on the benches opposite I only counted 4 planes in 45 minutes, which you wouldn't even notice after a while. On top of all this, it's a ten minute walk to my school, probably only 15 minutes walk to the train station or a 5 minute bus ride, and even better, there is a sports club down the road which runs the kick boxing school I used to be a member of before it closed locally, which means I can start going again! I'm so excited I just want to scream and dance around!
I have literally never been this excited in all my life, I just want to run out and buy all my furniture, accessories and kitchen stuff now! I know it will be a pain to move it all but I can't see myself holding out this long. Plus, there isn't a Tesco/Ikea very nearby so it might be worthwhile doing, especially seeing as I now have the opportunity to do three trips in the car when moving rather than just two.
Ok, I'm going to get up and sort my life out so I can justify getting excited!
Plus, I have another date on Wednesday, if you can call it that. This all followed a very messy night out with the girls to celebrate graduating, but I think that story is best left forgotten and this whole thing kept pretty quiet. Which would usually not be worth the hassle, but I'm now moving in less than 3 weeks and, if I thought London was a long way, he's moving to Cairo to teach in August, so this is as short-term as is humanly possible and, to be honest, is basically about sex and right now that suits me fine.
So heres to an exciting last three weeks in Plymouth before I finally escape this hell-hole and get everything I've ever wanted. Finally :)